P15F - ES Daytrading Portfolio
Key Features:
This is a modified version of ESCombo3.
There are some trend and some countertrend trades, but mostly trend
Intraday only
The commission has been reduced to $5, so this is not suitable for broker managed trading.
With lower commissions, it trades more frequently. This is a test to see how that works out.
Profit target: No
No equity curve stop.
All hypothetical trades are based on limit orders which require price penetration (no slippage)
Actual trades also use limit orders (except for stops) so no slippage.
$5/rt commissions
Trades on 3 minute @ES.D chart
Hypothetical gain or loss charts
Lifetime trend encompasses both pre and post design periods.
Performance data since design
The account size is essentially twice the maximum drawdown or $10k whichever is greater.
The above values may have been calculated on a month end basis, which will reduce their accuracy somewhat.
Further Explanation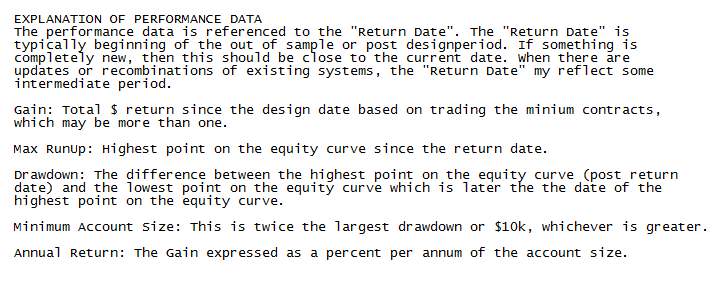 System Metrics(All Dates)
PAST PERFORMANCE WHETHER REAL OR HYPOTHETICAL IS NO GUARANTEE OF FUTURE RESULTS.